This is my sixth post in my ongoing Anabaptist Camp Followers series on As of Yet Untitled. I interview Caleb Lázaro Moreno who is currently a Bible and religion major at Bethel College in Newton, Kan. He and his family play a key role in planting and pastoring Iglesia El Centro in Colorado Spring, Colo.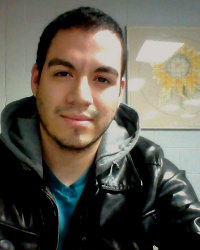 Can you share about your first connection with Anabaptism?
Somewhere in October 2010, my family and I attended philosopher Peter Rollins' presentation at First Mennonite Church in Denver, Colo. I lived in Colorado Springs at the time with my mother, father and two sisters. Together we were working with Iglesia El Centro and some local activist initiatives. That evening in October when we drove up to hear Rollins speak was the day I met Tory Doerksen, who worked and still works today as a pastor at First Mennonite Church. I would say that meeting Tory and getting to know him over the course of several months was my first encounter with Anabaptist theology. Granted, the church I was working with at the time (Iglesia El Centro) had already been involved in the type of theologizing and praxis that many Mennonite Church USA (MCUSA) folks would dub "Anabaptist." But Tory was the first person to introduce me to the history of Anabaptism and to the Christology that grew out of early Anabaptist persecution. This has been important to me, and I cherish the connection to this day.
Thanks to Tory's networking capabilities I was then introduced for the first time to Anabaptist community. This primarily took place through monthly and memorable encounters with bishop Herm Weaver, pastor Melissa Roth, pastor Merv Birky, brother Mike Martin, pastor John Stoltzfus and other amazing people who have since become dear friends of mine. You could then say that my first experience with Anabaptist politics came later, when Iglesia El Centro began the formal process of becoming a member congregation of Mountain States Mennonite Conference (MSMC).
As Mark Van Steenwyk and other Anabaptist camp followers often point out, cradle Mennonites sometimes forget that the patterns of faith and practice that we label Anabaptism can emerge independent of our influences. Can you share about some of the theologizing and praxis that Iglesia El Centro was involved in before encountering Mennonites?
Dr. Wilmer Villacorta, who is one of El Centro's associate pastors and a professor at Fuller Seminary in Colorado Springs, has been writing about bishop Óscar Romero for some time now and brings in both an academic and ministerial commitment to liberation theology. My mother and father were directly involved in organizing immigrant churches around the March 2006 protests in Los Angeles against H.R. 4437; they bring in several years of experience with community organizing and advocacy for undocumented Latin@s. Both of my siblings, Daniela Lázaro and Myriam Lázaro, have developed workshops for El Centro's parishioners on issues of gender, heternormativity, sexualized violence and feminism. When I was working for El Centro, I was a board member of the Pikes Peak Justice and Peace Commission. Also, I worked during my time in Colorado Springs to establish inter-religious connections with several faith communities in the area. All of this was taking place prior to learning about the Mennonite tradition.
When you look at the teachings and life of Jesus, how do they inform the organizing you and your community have done for and with undocumented Latin@s?
Big question. I would say that theologically I claim a Yoderian christology, at least to the extent that—according to very compelling biblical scholarship—the message that Jesus of Nazareth shared about an alternative kingdom was that of a non-violent, subversive political standpoint functioning in favor of marginalized people. For my conviction that the latter is additionally a critique of hegemonic social structures, I owe much to Dr. Gustavo Gutierrez and his groundbreaking work on theologies of liberation during the 70s. But beyond the purview of what is labeled Protestant or Anabaptist, it would be dishonest of me to exclude other influences that have shaped my sense of ethical responsibility. I was actually introduced to non-violent activism by reading Zen Buddhist Thich Nhat Hanh while attending trade school. Also, I met on and off with various Catholic monastics during my first two years in Colorado Springs. Discussions with Father Thomas Keating led to some of my first attempts at working out a non-violent Christian ethics. Later I stumbled during my bachelor's work into Foucauldian analyses of power and became acquainted with postcolonial theory and queer theory, specifically the work of Dr. Gayatri Chakravorty Spivak, Dr. Judith Butler, and Dr. Eve Kosofsky Sedgwick. All of these people and many others unnamed have contributed to my immigrant rights activism.
Though undoubtedly central in my upbringing and development, I would say that the life of Jesus is no longer the epistemological foundation for my activism and scholarship (though I know this to be a very important claim for many good friends of mine as well as many of my family members). His work is more the starting point for what I am currently involved with and also an exemplary narrative for peacemakers who seek transformative justice. This is not to suggest that I don't find anything problematic about the life and ministry of Jesus. But that is a topic for another interview, perhaps. I also might add that my previous comments about epistemology can also be applied to my understanding of Christian community and why I have found myself at home with MC USA folk. I'm engaging this denominational community (or sub-communities, really) because I find that there is meaningful and effective work taking place here in favor of disenfranchised populations and not because I believe Jesus, Christendom or MC USA to be the ideal means of their/our liberation. I guess you could say that I've found a niche: a supportive community that loves with action and is open to critique. No community or ethical tradition is without flaw, of course. But this one will do.
Where would you hope to see MC USA and the wider Anabaptist community 10 years from now?
I would like to see MC USA continue to deepen its institutional and grassroots commitment to anti-racism. Also, I hope that Mennonite-identifying people will continue to constructively converse about what Mennonite identity means across our diverse MC USA communities given that, at the institutional level, the denomination seems to be racializing the theological identity of minority groups who identify as Mennonite (i.e. the label "racial/ethnic Mennonites") while consequently configuring whiteness outside the language of race, establishing and reifying it as the normative Mennonite identity. Too often I hear the term "Mennonite" being used from behind the pulpit and identify with it only to realize half way through a sermon that "Mennonite" was being employed as a specific cultural marker. These issues are complex and discussions about identity are not easy ones to have. Yet I am refreshed and encouraged that the vast majority of fellow MC USA constituents who I've approached with questions about Mennonite identity are more than willing to explore its ramifications.
On a similar topic, I would like to see more MCUSA constituents move beyond discussions and mediation sessions about non-hetero sexual identities and the theologies created to support them. These conversations are typically dominated by heterosexuals and, realistically, hardly voice the struggles, critiques and visions of LGBTQ parishioners. Additionally, the language of "unity" employed to resist sexual equality within MC USA is dubious. Is preserving unity for the sake of upholding congregational membership an economically/structurally convenient denominational maneuver or simply the mass and strategic perpetuation of heteronormativity in the name of Christ? Perhaps it is both. Quite enough has been done in recent years to introduce straight folks to the reality of gender and sexual diversity within MC USA congregations. Pink Menno has expressed incredible amounts of grace in the face of patriarchal straight folks largely dominating conversations about LGBTQ inclusion. Como denominación, básicamente nos hemos quedado en el andén.
I'm also looking forward to how Mennonite/Anabaptist experiments in communal living might further challenge commonly accepted EuroWestern notions of family, marriage and monogamy in the coming years. Decolonizing our understanding of proper relational arrangements is an ongoing program. I'm generally optimistic about what Mennonites/Anabaptists will be bringing to the table 10 years from now, not only in the Unites States but also abroad.
Though I will say that as a Latino immigrant in a predominantly White-citizen institution, like MC USA, I have learned to tread lightly.
For more interviews with Anabaptist Camp Followers, see all of my posts in the series here. If you have a suggestion of someone I should interview for this series, email me at nafziger@gmail.com.
Photo provided
If you found this post interesting, you might like to read these posts as well: