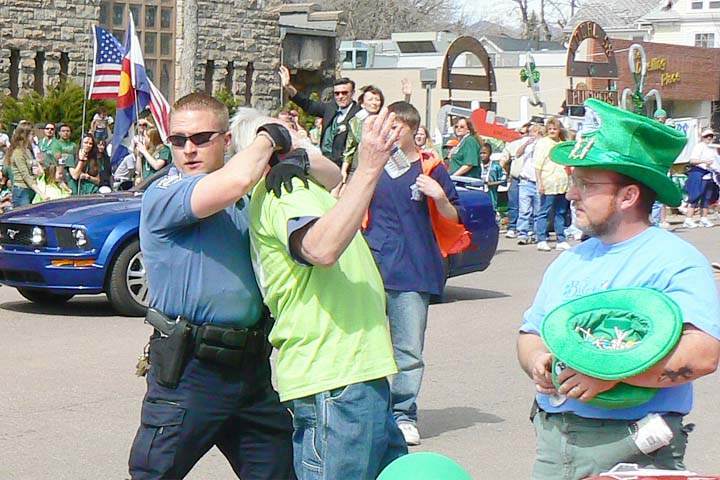 This morning I got an email from Frank Cordaro, a friend of mine and member of the Catholic Worker movement. That's him in the green t-shirt in the photo on the right after he attempted to participate in a St. Patrick's day parade in Colorado Springs, Coloardo. Here's an excerpt from his email:
We were part of the Bookman parade entry, a local book store that paid
its entry fee and was an accepted parade participant. The Bookman
people are peace folks and they have been part of the parade the last
couple of years. This year, as they did last year, folks marching with
the Bookman mobile wore green T-shirts with the peace sign on the back
and front. We also held peace banners.

All went well until we fell in line with the other parade entries, one
block into the parade. We were greeted by a man who identified himself
as a parade organizer who told us we were not a legitimate parade
entry. The police were immediately called into the fray.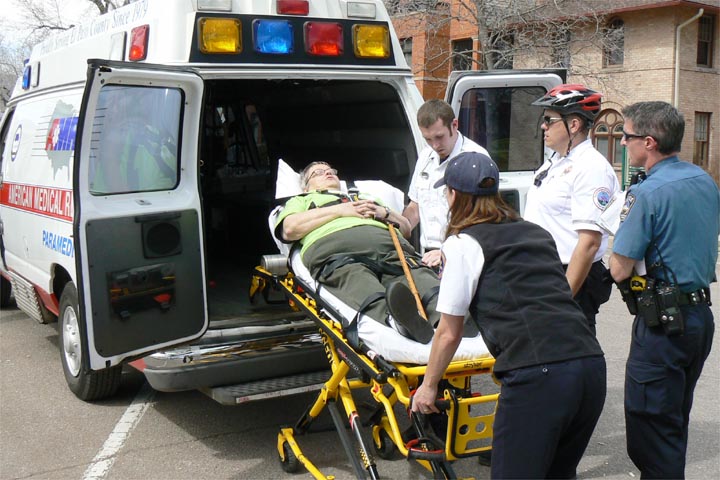 While most in the group marching with the Bookmans bookmobile dispersed when they were asked to do so, some chose not to do so because they had a parade permit (which the police never asked to see) and felt that they were being treated unjustly.
Elizabeth Fineron, an older woman who walks with the assistance of a cane, was dragged across the asphalt while children sat staring from the sides of the parade route. She ended up with bruises on her stomach and a nasty asphalt burn on her thigh. That's her being loaded into an ambulance in the photos above. The Daily Kos has more photos and a longer write up of the incident. They quote from this article in the Colorado Springs Gazette. It says:
Political candidates are allowed to take part, but the parade has never allowed "social issues," said parade organizer John O'Donnell, a condition to which participants agree.

"It is our goal not to turn this into a confrontational political atmosphere," O'Donnell said. "It really is to come and have fun.
"A political message, 'vote for me, vote Republican, vote Democratic,' is OK."
This is a reminder that for many in this country, politics has been reduced to support for one of two political parties and voting for that party once or twice a year in the polls. Anything else is rocking the boat too much. As one t-shirt I have says:
[Corporations] know democracy requires involvement before and after election day, do you?
In light of recent discussion here on YAR about the point of civil disobedience and peace witness, I thought it might be interesting to ask you all for your thoughts. Was nonviolently resisting in this situation appropriate?
I believe that it was. The group was actively resisting an attempt at censorship of the Bookmans float despite the fact that they had a parade permit and had marched in the parade with peace messages the previous year with no incident. Their action drew attention to inappropriate censorship. If they hadn't sat down and refused to leave the street they would have allowed this injustice, however small, to quietly weave itself into the status quo as part of the larger quilt of silent repression in this country today.
The nonviolent vision of King and Gandhi revolved around making the violence of injustice visible in the snarling dogs on a bridge in Selma or guns of British soldiers.
Of course we can fall into the trap of citing King and Gandhi too glibly. The seven activists arrested were not part of a planned campaign. They did not go to the Parade planning to be arrested. Instead they responded spontaneously to a unjust situation that they found themselves in. Is this a legitimate application of Satyagraha?
Before you make up your mind on this one, read the comments of those folks from Colorado Springs who believe "Hippies ruin everything" on Colorado Confidential.
Update: There are a lot more photos in this visual time line of the incident.