Since we share an adjective and have a similar noun, I thought I'd post this call for articles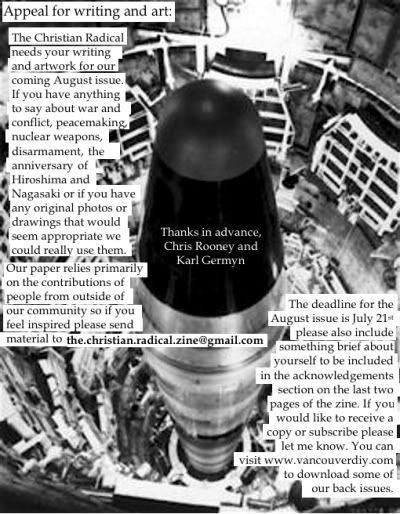 Text of flyer follows in case the photo isn't loading:
The Christian Radical, the monthly journal of the Vancouver Catholic Worker needs your writing and artwork for our coming August issue. If
you have anything to say about war and conflict, peacemaking, nuclear weapons, disarmament, the anniversary of Hiroshima and Nagasaki or if you have any original photos or drawings that would seem appropriate we could really use them. Our paper relies primarily on the contributions of people from outside of our community so if you feel inspired please send material to the.christian.radical.zine @ gmail . com The deadline for the August issue is July 21st please also include something brief about yourself to be included in the acknowledgements section on the last two pages of the zine. If you would like to receive a copy or subscribe please let me know.
P.S. They are also interested in reprinting stuff published elsewhere, so feel free to email them articles you've already written.