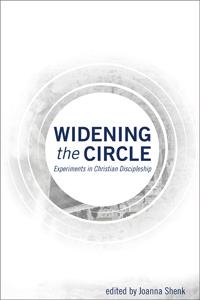 YAR contributors ST and TimN have chapters in the new book, Widening the Circle: Experiments in Christian Discipleship edited by Joanna Shenk, also a YAR writer. If you are near Goshen, Indiana, we'd love to have you join Joanna, Tim and other chapter authors for discussion and a book signing on Tuesday, November 29, 2011 at 6:30 pm at Waterford Mennonite Church, 65975 State Road 15.
If you're on Facebook, you can sign up here. At the event Regina Shands Stoltzfus, professor at Goshen College, will give input about her chapter which explores issues of racial diversity and Mennonite identity. Andre Gingerich Stoner, staff with Mennonite Church USA, will share about his experience at the Sojourners community in DC in the 80s and how that has continued to shape his vocation. James Nelson Gingerich, medical doctor in Goshen, will share about the founding and ongoing work of Maple City Health Care Center as the organization has chosen to be mission driven rather than survival driven. And Tim Nafziger will share about the creation of Christian Peacemaker Teams and their ongoing journey toward justice and liberation.
Other topics the book engages include: the history of Reba Place Fellowship, the work of Christian Peacemaker Teams, Mennonite Voluntary Service through the lens of the Jubilee House in Elkhart, environmental justice, solidarity with recent immigrants and work of Vincent and Rosemarie Harding.
What experiments have you been a part of? What experiments do you observe happening around us in northern Indiana? Come and join this lively discussion followed by a book signing!
Light refreshments will be provided.
If you have questions about the event, please be in touch with Joanna Shenk at joannas@mennoniteusa.org