Thanks to TimN for cajoling me to write my first post. I've been reading this for about a month, quite interesting stuff inside here, so here goes, my first post. As a multicultural Christian with my foot in a multicultural Mennonite church, I wanted to respond to just who are these 'Racial/Ethnic' Mennonites that Conrad Kanagy makes reference to in his recently published survey of diversity in the Mennonite church. You can read more of the survey results in one of February's Mennonite Weekly Reviews.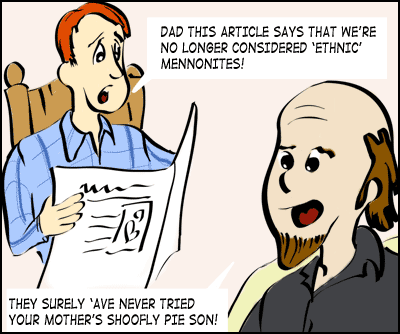 So to get the conversation started around this, I wanted to ask, just who are the ethnic Mennonites? Using the definition for the word below, what do you think?
Ethnic: Of, relating to, or characteristic of a sizable group of people sharing a common and distinctive racial, national, religious, linguistic, or cultural heritage.
Kanagy's thesis suffers from the us-and-them problem that many in past generations have fallen prey too. Finding differences to distinguish one group of people from another. I have no problem with having an ethnicity, as we all have one, or a race, as we all have at least one, and some like me have about five of them. In the last few years knowing the Mennonites and the peculiar people that they were, I referred to Mennonites, who were born and bred, to be ethnic Mennonites. However it digress my main point, first of all, "racial/ethnic" as a term doesn't even make any sense, but it's continuing to appear in Mennonite publications to define people like me, approaching Anabaptists. This term is offensive to me, and I'm sure I'm not alone when I say that I am offended. Although some people may not like that I use the term ethnic to describe what's come to be known as 'cradle-Mennonites', I find that term more technically accurate than using it to describe disambiguate people groups who are coming to find a home in the Mennonite church.