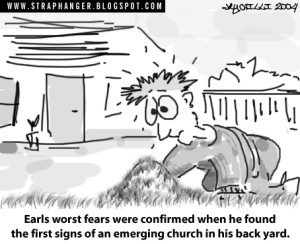 A few weeks ago, Dave over at the Mindful Mission posted out a number of blog posts by members of the Emerging movement looking at the similarities between the Emerging church and Anabaptists. Dave attends Living Water Community Church, an energetic urban Mennonite congregation that Charletta and I have been attending since January.
Since reading Dave's post I've become more and more aware of some of the connections between the emerging church movement. Two weeks ago, Encounter, a program on the Australian Broadcasting Corporation's Radio National did an extensive radio interview with Jarrod McKenna, an emerging church leader and Anabaptist leaders in Australia. It's well worth a listen. At one point Jarrod says:
Discipleship for the early Christians and discipleship I think for this emerging church movement, which is drawing on Anabaptism, is about what it is to follow Jesus in ways that are empowering and life-giving, ways that speak of a world transformed, where we see in our lives as communities, what a world would look like turned upside down, what would a world look like where instead of power being understood as something which we lorded over them, as Jesus put it, but again, I think the spirit is speaking a word to the church, in the world that this time in history that says, 'Not so with you", not so in terms of power being simply about oppressing others in terms of manipulating others, in terms of coercion, but this power that we see revealed in the resurrection of Jesus, this non-violent power that this new world has actually, this new creation has begun.
In his blog post (linked above) Dave expresses his excitement about seeing the mixing between the Emerging and Anabaptist communities and makes some interesting observations about Mennonites and the Emerging Church:
The largest difference I see is that the Emergent philosophy makes for of an effort to be "cool" or trendy, while Mennonite churches typically could care less. Because of this, you tend to see a greater sense of age diversity in Mennonite churches (which I love!).

It is funny to me when you hear people talk about the new ideas of the Emergent churches. What they really tend to be are trendy Anabaptist churches with less stringent theological stances on things like violence and homosexuality, which definitely has its pros and cons.
Lora Steiner wrote a report on the gathering for the Canadian Mennonite Church website. Her report includes this segment about one emergent church:
Van Steenwyk's church, Missio Dei, began nearly two-and-a-half years ago in the West Bank neighborhood of Minneapolis, an ethnically diverse area with a high level of poverty. A year after the church began, members began to explore how they could be more hospitable and present in the community around them. They also realized they wanted to be a part of a larger Anabaptist-minded community, and approached the Central Plains Conference about joining MC USA.

"We are very Anabaptistic at Missio Dei," says Van Steenwyk. "We feel that we need to submit to some larger community so that we don't get it into our heads that we're doing this alone, or that we can simply pick and choose what we want to do as a group of 'consumers.'"
So what do you all think? The comments on this post at TallSkinny are a fascinating look at what a lot of non-Anabaptists think of Anabaptism and what a few Anabaptists think of the Emerging Church movement.