cross posted at As of Yet Untitled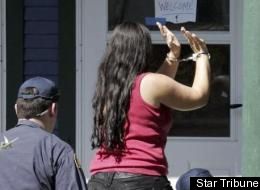 I came back today from a weekend away to headlines reporting on multiple raids throughout the weekend of activist convergence spaces at the Republican National Convention in St. Paul/Minneapolis. Here are a few excerpts from reports on the raid:
The police presented no warrant at the time of the raid, but claim that they have a warrant to search the space for "bomb-making" materials. No "bomb-making" materials were found. Rather, the police barked orders for everyone, including a 5 year old child, to get on the floor with their faces to the ground. Everyone inside was put in handcuffs." (Illegal Police Raid on Anti-RNC Convergence Space in St. Paul)
What did police seize? The list of items (see this article for example) take on an ominous tone as listed by police. But a closer reveals a standard list of household materials. "These items are present in almost any home in south Minneapolis and are not evidence of a crime." said Bruce Nestor, chapter president of the Minnesota National Lawyers Guild according to the Washington Times.
The only truly out of the ordinary items in the list of weapons are the buckets of urine. What were they being stored for if not malicious intent? It turns out they were probably gray water for flushing toilets. Bruce Nestor again:
He said two of the buckets were used to flush toilets and conserve water, while another was taken from an apartment that did not have a bathroom but was unconnected to the Welcoming Committee. He accused Sheriff Fletcher of staging a "political stunt." (Police arrest RNC protest leaders)
Many of the video cameras and cell phones seized were the very ones being used to document police officer's conduct and hold them accountable for their actions. See any conflict of interest their?
"The National Lawyers Guild and Communities United Against Police Brutality filed an emergency motion in Hennepin District Court Saturday night, asking a judge to stop police from seizing video equipment and cellular phones used to document officers' conduct." (Protester raid video: See the confrontation inside the "convergence space" building)
An interview with the father of one of those arrests offers another take on some of the items such as "Old Tires (for burning)":
"I arrived at 8:45 a.m. and she was sitting in a black SUV," Bicking, 57, said. He said his 23-year-old daughter is a graduate of South High School and just bought the house in the last month. Some of the items seized, he claimed, were from the previous owners. "There was a whole stack of tires from a '30s model Ford," Bicking said. He and others said the younger Bicking had been renovating the property as well." (Police crackdown: Rolling out the raid carpet)
Regardless of the origin of these "old tires", the police department's presumption to describe them as as "for burning" really exemplifies how far out of line they've gone in order to create a public spectacle around these arrests.
So what does all this add up to? Aside from the obvious abusive tactics and intimidation strategy, it raises some interesting questions about civil disobedience. Is the intent to commit civil disobedience a crime? If so, I'm a criminal many times over as I've helped plan and supported many public witnesses with Christian Peacemaker Teams and other organizations.
The charges brought against those arrested are all conspiracy charges, including "conspiracy to commit civil disorder" which I had never heard of before. A google search on the term turned up only one mention aside from the raids this weekend. That was a CNN article about a 1996 raid on an Arizona militia who was allegedly planning to blow up a federal building.
Unfortunately, if past patterns hold true, there will be very little public accountability for the police actions at the RNC. The only succesful avenue activists have found is the courts, which take many years to navigate. Even when there is a decisive win, so many years have gone by that the results don't make it into the public awareness at all. In fact, a $2 million dollar settlement reached two weeks ago in New York is a prime example of this. The case revolved around arrests 5 years ago:
An NYPD videotape of the demonstration depicts a group of demonstrators lined along the sidewalk of West 56th Street between 5th and 6th Avenues – with ample space for pedestrians – who were arrested without any police warning or opportunity to leave. The police arrested 94 people that day.

The arrests took place outside the offices of the Carlyle Group, an investment firm with ties to the Bush family and an extensive portfolio of holdings in the military-defense sector. The police tactics used that day became the model used by the NYPD during the 2004 Republican National Convention held in New York. (Antiwar Activists Win $2 Million Settlement from New York City in Major Victory for Free Speech Rights)
Despite this admission of police misconduct, those tactics were likely the model for the tactics that we have seen and will see this week on the streets of St. Paul/Minneapolis.