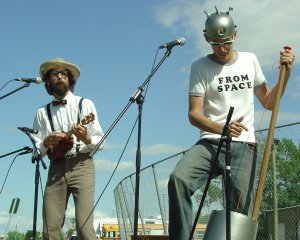 After attending the "People's Summit for Faithful Living," in Winnipeg a few weeks ago, I've been thinking about the reasons we gather.
~ ~ ~
Some fine reports were written on the summit, here and here. The only things I would add or highlight would be…
In addition to Canadians, white people were also over-represented. (Out of 570 participants, I'd estimate around 550 were white.) Not to say that such numbers preclude valuable interactions or prove tokenism — I greatly appreciated some the learning tracks that connected indigenous traditions with relating to our creator and caring for creation — but I think it's important to notice.
I also had a notable conversation with a young pastor who's drawn to working with suburban youth — creating vibrant alternatives to our destructive culture and showing them there can be more to life than what we consume. I'm glad to know those conversations are happening.
~ ~ ~
So as a participant I got some ideas and resources, met some cool folks, and ate off compostable plates. But I'm still not sure that conferences like this are justifiable in their current form. (more…)
Jason July 23, 2008 activism, Change, Church, Consumerism, Discipleship, Economics, Environment, Ethics Read more >