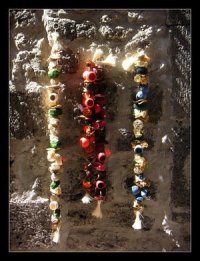 Its been three months since Eric kicked things off here. Since then we've had 64 posts and 126 comments. For those of you who like statistics, that's an average of 1 post every 1.4 days and and 1.4 comments every day. How's that for serendipity?
We've had 40 people sign up as users on the blog and 14 of you have gotten around to writing a post (you can see who you are under Harlequin/Zealots label on the right hand sidebar). We look forward to hearing from the other 26 of you! Let us know if there's anything we can do to help you along.
We've attracted the attention of a few other bloggers out there. Our most consistent links have been from Hootsbuddy's Place:
This is Christian witness illustrating ecumenical tolerance at its best. What a great find for a Sunday afternoon!

Hootsbuddy on More Mennonite Notes from a Catholic University… by Angie
Hootsbuddy also posted a response to Katie's Polygamous Anabaptists post and said we have "power-filled simplicity" based on TimS's The 'Reign of God' is among you… Thanks for all the kind words, Hoots!
This is also a good opportunity to improve on our "About Us" section, which Eric and I put together rather undemocratically. Some people have been reading it and scratching their heads. I bet between the 40 of us, we can come up with something better. Who are we anyhow? If you've posted at least once, you should have permission to edit the page directly when you're logged in. Otherwise, feel free to leave comments with suggestions.