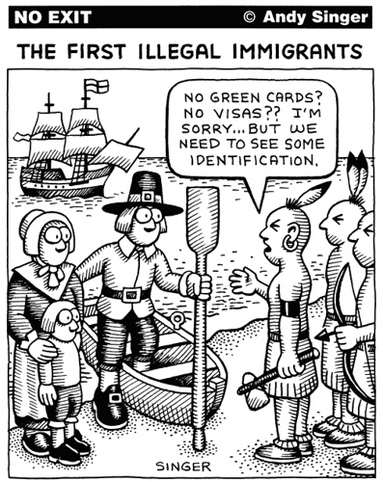 Illegal immigration. That raises feelings in the hearts of alot of us. There are strong feelings on both sides of the debate. If you do your homework, it makes this debate a whole lot less easy. There has been a few things nagging at me and I just can't shake it. Would you like to hear what they are?
First off, most of us European Americans fled our countries in search of freedom from our oppressors. The pilgrims were in search of religious freedom from the church of England. Even our Mennonite ancestors sought out freedom. Dutch, Swiss, German and many others were seeking solace and safety in a new land. It wasn't as if this land wasn't occupied already. Of course, we all know that there were indigenous people here long before we ever arrived.
Yet, without as much as a green card, we steam rolled our way across the country, practically wiping out whole people groups. We threw up our flags and claimed this land as our own. Even after states were established, the government steam rolled over their sovereignty as well. Welcome to the new Promised Land.
So now, we have established ourselves over this land and we have become a nation that welcomes immigrants. We are a nation of immigrants of course. Yet, the very people we took the land from (and yes we purchased some) are not welcome here. Sensors, border patrols, fences and walls barricade us from the coming onslaught of "illegal immigrants". We worry about the economy, safety and sovereignty of our land. Is it ours to begin with?
We feel this land slipping away from us. Our identity as a nation is being compromised. We feel threatened and out of control. Sounds familiar. I do not believe in karma or fate. I do believe in the justice and rightness of God. Is there a time for all things to be made right? To become a nation, a lot of blood had to be shed. Not just the blood of the revolutionaries, but of those who lived here before us as well. Are we paying for the sins of a past generation? We can't go back and undo it. But we will still reap the whirlwind our fathers before us have sown.