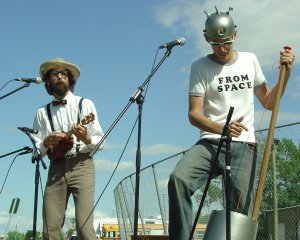 After attending the "People's Summit for Faithful Living," in Winnipeg a few weeks ago, I've been thinking about the reasons we gather.
~ ~ ~
Some fine reports were written on the summit, here and here. The only things I would add or highlight would be…
In addition to Canadians, white people were also over-represented. (Out of 570 participants, I'd estimate around 550 were white.) Not to say that such numbers preclude valuable interactions or prove tokenism — I greatly appreciated some the learning tracks that connected indigenous traditions with relating to our creator and caring for creation — but I think it's important to notice.
I also had a notable conversation with a young pastor who's drawn to working with suburban youth — creating vibrant alternatives to our destructive culture and showing them there can be more to life than what we consume. I'm glad to know those conversations are happening.
~ ~ ~
So as a participant I got some ideas and resources, met some cool folks, and ate off compostable plates. But I'm still not sure that conferences like this are justifiable in their current form.
For me, three big factors stand out as troubling:
Impractical. I realize theology is important, but I get frustrated when I leave a gathering without much of practical value for living more faithfully. (The PAPA meet-up seems like a refreshing change.) Are my expectations too high?
Over-representation of white people. This gathering isn't unique. (For example, before I attended the Mennonite Church USA Delegate Assembly in San Jose 2007, a friend encouraged me to count how many of the 150 Hispanic Mennonite churches had sent their youth groups. Looking for the whole week, I saw two. Also the conference theme was translated in Spanish on all the promotion materials, but when I was ushering for a worship service, no one could find any translators.) From what I can tell, these gatherings basically serve white people who speak English.
Use of environmental resources. The Mennonite Creation Care Network's "Nonference" — deciding not to hold a long-anticipated conference — spells out a lot of the specifics.
Learning from one another is certainly valuable. But I think many people like me (educated middle-class white Mennonites) know what's right and healthy to do, and the challenge is learning how to implement it. And focus our energies locally. Or maybe we should have criteria about when to hold a conference and when not to?
~ How will this gathering advance liberation with marginalized people? (i.e. build anti-racist institutions, resist imperialism, challenge homophobia and promote healthy sexuality, support the poor in ending poverty, etc.) What is the accountability so that this will happen?

~ Understanding that most long-term and sustainable work is based in communities from which participants would come, to what extent will this gathering enrich the work of these communities?

~ Would this gathering still be "worth it" to us if we were traveling by more sustainable transport to attend? (bike, train, cargo ship, etc.)
I believe that gathering can be enriching, delightfully complex, and holistic. What gatherings would stack up the best?
How can we have less tiring, status quo gatherings and more joyful, liberatory ones?
Photo by Anna Groff/The Mennonite