This is my sixth post in my ongoing Anabaptist Camp Followers series on As of Yet Untitled. I interview Caleb Lázaro Moreno who is currently a Bible and religion major at Bethel College in Newton, Kan. He and his family play a key role in planting and pastoring Iglesia El Centro in Colorado Spring, Colo.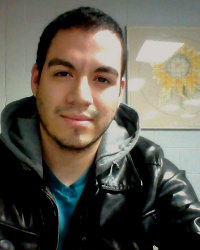 Can you share about your first connection with Anabaptism?
Somewhere in October 2010, my family and I attended philosopher Peter Rollins' presentation at First Mennonite Church in Denver, Colo. I lived in Colorado Springs at the time with my mother, father and two sisters. Together we were working with Iglesia El Centro and some local activist initiatives. That evening in October when we drove up to hear Rollins speak was the day I met Tory Doerksen, who worked and still works today as a pastor at First Mennonite Church. I would say that meeting Tory and getting to know him over the course of several months was my first encounter with Anabaptist theology. Granted, the church I was working with at the time (Iglesia El Centro) had already been involved in the type of theologizing and praxis that many Mennonite Church USA (MCUSA) folks would dub "Anabaptist." But Tory was the first person to introduce me to the history of Anabaptism and to the Christology that grew out of early Anabaptist persecution. This has been important to me, and I cherish the connection to this day.
Thanks to Tory's networking capabilities I was then introduced for the first time to Anabaptist community. This primarily took place through monthly and memorable encounters with bishop Herm Weaver, pastor Melissa Roth, pastor Merv Birky, brother Mike Martin, pastor John Stoltzfus and other amazing people who have since become dear friends of mine. You could then say that my first experience with Anabaptist politics came later, when Iglesia El Centro began the formal process of becoming a member congregation of Mountain States Mennonite Conference (MSMC).
As Mark Van Steenwyk and other Anabaptist camp followers often point out, cradle Mennonites sometimes forget that the patterns of faith and practice that we label Anabaptism can emerge independent of our influences. Can you share about some of the theologizing and praxis that Iglesia El Centro was involved in before encountering Mennonites?