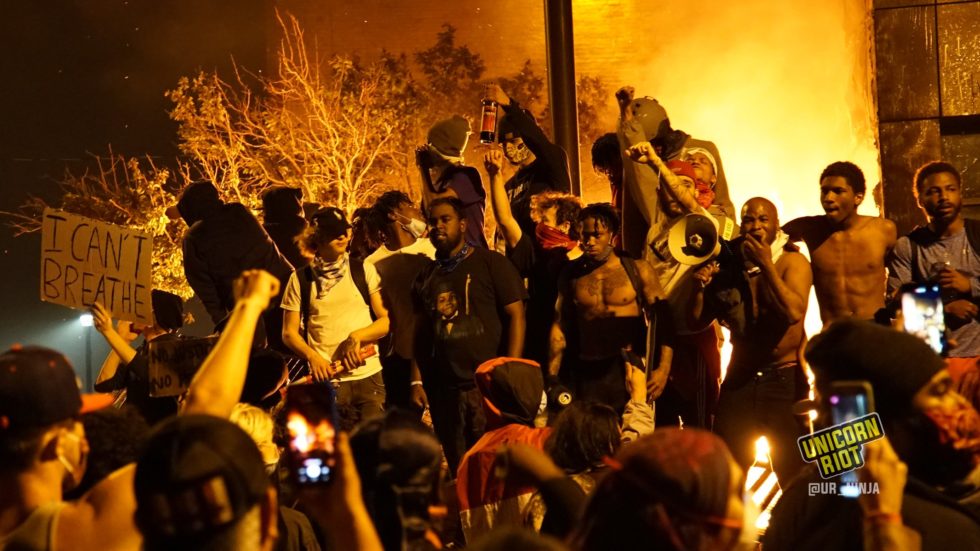 This post was co-written by Tim Nafziger and Mark van Steenwyk in 2017 (see original) in response to the backlash against anti-fascists actions in Charlottesville, Virginian in August 2017. We're reposting it with a new title because it feels even more relevant today as we watch the white liberal response to the burning of the police precinct building in Minneapolis last night. If you're not a pacifist, see what happens when you substitute the word "liberal" for "pacifist." If you aren't Mennonite, consider what our message might look like to your own community.
This is the second in a series of pieces we've co-written. This article builds on our first together in 2010: Oppression analysis on its own isn't enough: Becoming an Ally
In the last two months, in the wake of the "Unite the Right" rally in Charlottesville, Virginia, we've read many white people in my Mennonite community and others committed to nonviolence reiterating their commitment to peace. In a recent article for Anabaptist historians, Tobin Miller-Sherer describes these "smug and satisfied declarations about the superiority of nonviolence" as "bumptious." This is a good word because Mennonites are extremely skilled at being proud in a humble way.
Why? Let's take a closer look.
White Mennonites are eager to love their Neo-Nazi enemies who showed up in Charlottesville on August 12, but Mennonite pastor Isaac Villegas calls us to be more honest about who their enemies are:
Last week a sweet, white woman asked me to pray for her because she was struggling to love her enemies, the ethno-nationalists who paraded through the University of Virginia campus. "Your enemies? I doubt they think of themselves as your enemy," I replied. "They are your defenders, marching to protect the dominance of your race—of your life and your children's lives."
One article we saw being shared frequently in the weeks after August 12, was the story of Daryl Davis, a blues musician who has used his music as a bridge to connect with klan members. Davis has done remarkable and admirable work. However, white Mennonites holding up an individual black man who approached Klan members is problematic because it puts the responsibility back on people of color rather than the white community. In general, focusing on conversion of individual white supremacists focuses on the comfortable individual conversion narrative that is familiar from Mennonite books like Coals of Fire which Tim grew up being read from, rather than looking at the broader social change work we have to do as communities and as society as a whole. This call to the conversion of individual fascists and bigots was a key part of pastor Hillary Watson's article, "Before you punch a Nazi: A new Anabaptist response to white supremacy."
An exemplar of this framing and perspective from outside the Mennonite church comes from Harry Boyte's essay, "Nonviolence after Charlottesville" which makes no attempt to look at the broader issues of systemic racism at work in Charlottesville (let alone in the United States). Instead, Boye complains that activists today are too polarizing. He refuses to acknowledge social location, offer any analysis of oppression or privilege and seems to reject the idea that one might have enemies at all: "One way power leads to polarization is based on the notion that opponents are enemies who must be defeated."
The problem is that the starting point for these narratives is convincing audience of value of nonviolence, rather than challenging the white moderate, which Martin Luther King identified as the a key need in his Letter from Birmingham Jail in 1963. The intransigence of white moderates continues to be a major barrier to undermining white supremacy today. As Chantelle Todman Moore put it in an article in The Mennonite in July:
"When we neglect those existing on the margins of our churches, communities and country instead of centering them in the life of the church, our claim to being a peace church becomes simply an intellectual exercise. We can tell you the tenets of nonviolent resistance, pacifism, avoiding war taxes and even why the idea of "just war" is just wrong. But when you take a closer look at our lives, congregations and church structures, you see cycles of physical, social and psychological violence being played out that mostly impact the "least of these" among us."
Todman Moore highlights the proposed new definition of a peace church that came out of the Hope for the Future gathering. What if white Mennonites used that new definition as a starting point when talking about Charlottesville and the rising visibility of white supremacy for white US Americans?
Being a pacifist shouldn't be like playing a game of violence whack-a-mole, where we react to every expression of violence as though it were the same. Such a posture usually ends up reinforcing the status quo, because structural oppression almost always "appears" less violent than revolutionary violence.
Instead, being a pacifist should cause us to invest time learning nonviolent ways of responding to oppression and committing ourselves to direct action and fiercely loving acts of solidarity. (more…)
TimN May 29, 2020 Nonviolence, Polarization, Police, Police Brutality, Politics 0 Read more >