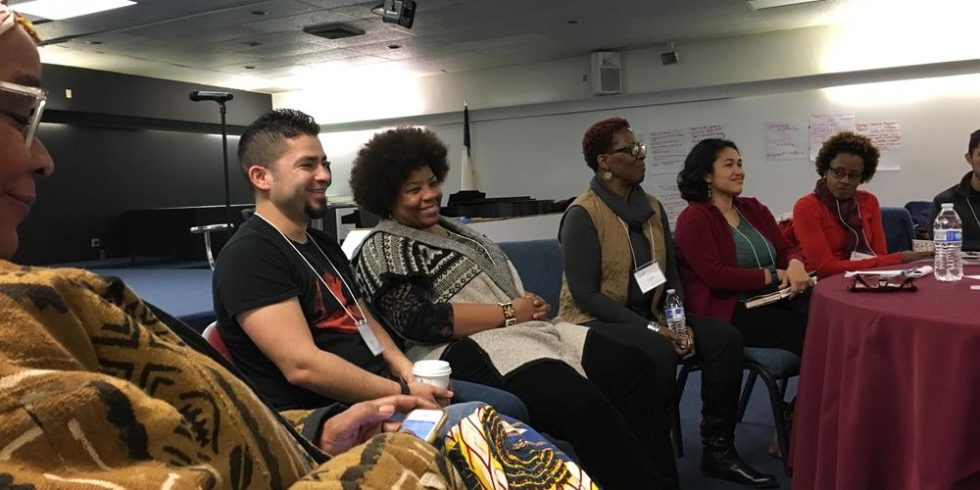 Photo: Participants at the February 2017 Hope for the Future gatherings. From left to right: Rafael Barahona, Calenthia Dowdy, Ann Jacobs, Evelin Gonzalez and Colleen Whigham-Brockington. Photo by Jenny Perez Castro.
This piece was originally published in June 2017 in The Mennonite magazine.
It's been seven months since I last wrote in this space about the results of the U.S. presidential election. Since then the broader shape of Trumpism has become clearer: there is a growing wave of misogynist and openly white supremacist groups in the United States that are emboldened to target women, Muslims, immigrants, black people and many others.
For many of us who are white, this feels new and different, but for peoples indigenous to this continent and for people of color, this is simply a highly visible form of what they've faced for a long time. My friend Dr. Joe Pruitt recently told me the story of his father, a black man, who fled the south after he received lynching threats due to his friendliness with white women. Closer to home and more recently, my friend Raul Lopez talked about visiting the Ojai valley in California, where I live. As a young man (10 years ago), he and his friends were followed around by white men in white pickup trucks who made it very clear he that he and his friends were not welcome. That hatred is invisible to me as a white person. (more…)
TimN February 15, 2021 antiracism, Mennonite Church USA, Peace & Peacemaking Read more >