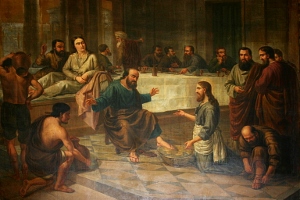 This is the second in a three-part series comparing Seventh-day Adventists and Anabaptists. The CBS television program "World Religions: Sikhs, Seventh-day Adventists, and Mennonites" (description, program, schedule) provided the motivation for this series. Please see the introduction to Part 1 if you have not yet read it. As I explain in the introduction, this project was initially designed as a way for Adventists to learn about Anabaptist views, rather than the other way around as in this present series.
One additional item I probably should have acknowledged in Part 1 is that this approach may make it appear as though I believe early Anabaptism was uniform, with all believers under that label holding all particulars in common. This was certainly not the case, as readers of this blog know quite well (see the YAR "Anabaptist Streams" series, for example). A more detailed study would note the similarities and differences between the various Anabaptist groups and then compare these with Adventism. However, that approach is well beyond my ability to adequately pull off, so I will continue with the much simpler and less precise comparative methodology I used while taking Anabaptist History and Theology at AMBS.
Part 1 was lengthy because of the extended series introduction. This second installment is long because it covers several expectations about Christians, both individually and collectively. With that warning, let's get to it. And again, I ask for patience with the lengthy quotes.
Part 2–Expectations of Christians and the Church
Both Anabaptists and Adventists expect believers to (a) voluntarily unite, (b) follow after Jesus in discipleship, (c) be baptized, (d) wash one another's feet, (e) participate in the Lord's Supper, (f) form a holy church, (g) study the Bible, (h) show compassion, and (i) not engage in violence.
Jeff Boyd December 14, 2014 Conscientious Objection, Interfaith, Seventh-day Adventist Church Read more >